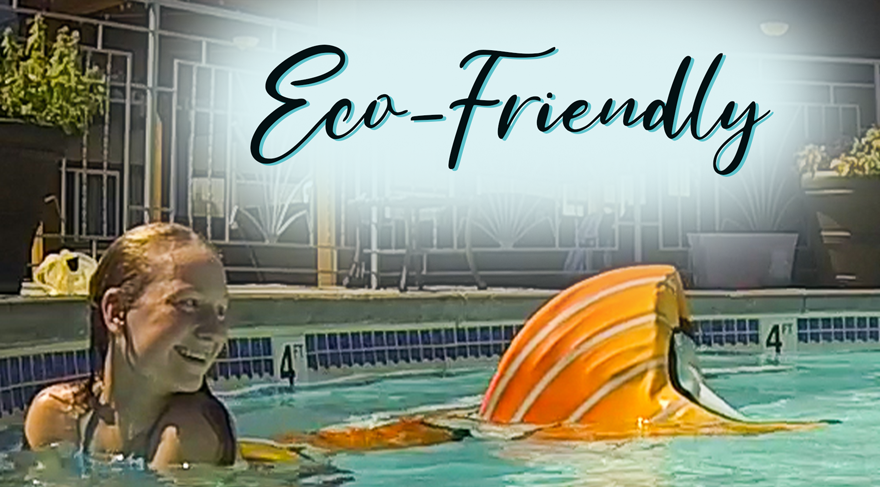 At Sirens Cove Designs, we pledge to be as eco-friendly as possible. Whether that is in the fabric that we use or our manufacturing practices. We believe that if mermaids were to be real, they would be mother nature's caretakers so we feel that it is our responsibility to follow suit.

Our Fabric
The fabric used for the webbed gloves, tails, patches, goggle fins and camera covers is a certified REPREVE fabric. It is made using plastic water bottles (roughly 20 per tail) and because of that, it has some of the lowest greenhouse gas emissions and water usage of all fabrics. It is also has OEKO-TEX Standard 100 Certification to ensure that is is free of harmful materials, Bluesign® certification which tracks how the fabric is created to ensure it's sustainability and the mill that produces the fabric has an EPA approval which means that they use environmentally sound methods for dealing with waste. 

Waste
We reduce our waste to a minimum as a continuation of our eco-friendly pledge. This means printing smaller accessories on scrap fabric, and reusing as much material as possible. Every single pair of goggle fins that have been sold, has been printed on scrap fabric around our tails and many of our webbed gloves and other small products have been made this way! 

Packaging and Shipping
We use simple, recyclable packaging with minimal papers and tape on the box. We rarely use packing material such as bubble wrap but in the odd case that we do, it it recycled from a shipment that we have received, either personal or business. For all international orders (not to Canada), we use DHL Climate Neutral which means that all of the carbon emissions from the shipment, will be offset. This is the best solution that we have created since shipping products, will always have some carbon emissions.

Manufacturing 
A large number of our products are made in-house but when that is not possible, we support local businesses. This not only reduces uneeded shipping but also support the local econonmy. These manufactuers meet our very high standards of ethics and sustainablity. Our in-house products are made by a very small team which allows for us to control the quality. Nothing gets produced until it's order which makes us fall under the category of 'slow fashion' where we are conscious about the enviroment.