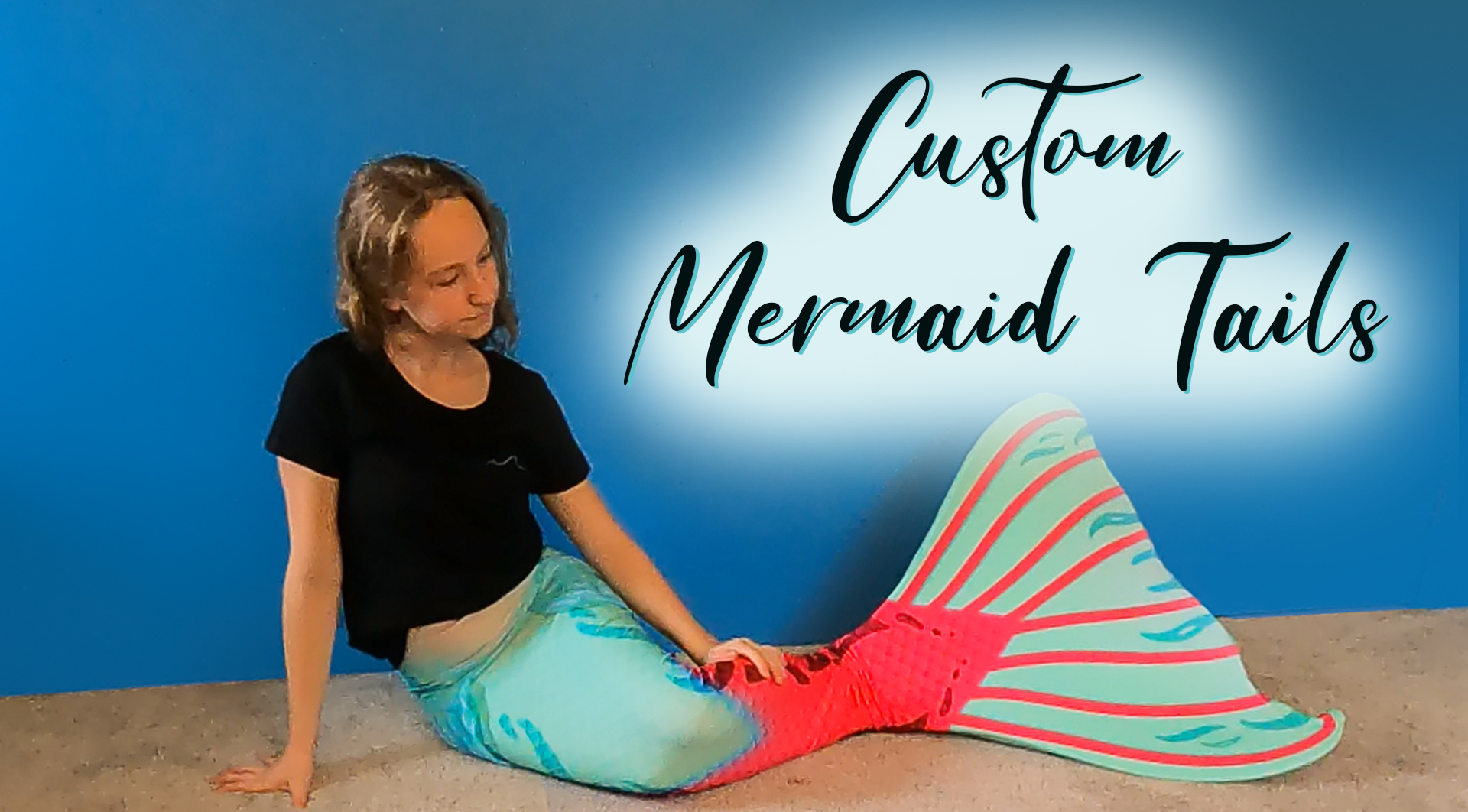 It's our passion to spread mermaid joy around the world with our mermaid tails. Custom right down to the measurements, we provide an experience like none other. All of our tails feature an elastic-free waistband, thick and luxurious fabric, vibrant colours, exceptional detail and an open bottomed fluke that is sure to make anyone from a hobbyist to a professional mermaid happy. 
Order a custom mermaid tail here: Custom Mermaid Tail Order Form
Base price - $375 USD
Base price includes a custom fabric mermaid tail for one of the listed fluke choices and the standard mermaid scale or custom gills. Three revisions on the concept art, one revision on the final piece. Extra revisions are available at an additional cost. 


Fluke Choices
Adult Mermaid Linden by BodyGlove monofin
Medium Finis Luna monofin
Small Finis Luna monofin
Lucia Fish Fin +$50USD
Sling styled tail (can be made to fit any monofin)
Flowy open fluke (Fits the Mahina Merfin, Mermaid Linden by BodyGlove or any other monofin that is roughly 30"x27") +$40USD
Zipper
+$50USD on top of fluke price

Does not work with sling tails
Colour matched 24" invisible nylon zipper
Placed on either right of left side of tail
Extra add-on 
Blended waist - $20 USD
Custom scales - $60 USD
Different front and back - $70 USD
Complex details - $65 USD
Printed fins - $55 USD

Extra Fins
Tiny fin- $15 USD ( 2"x3")
Extra small fin - $20 USD ( 4"x5")
Small fin - $25 USD ( 6''x7'')
Medium fin - $30 USD ( 10''x11'')
Large fin- $45 USD ( 15"x17")
Extra large fin - $50 USD ( 25''x11'')
   *Prices for fins are only an estimate, the price depends on the detail. 
          ** Price is for ONE fin only (hips fins require two fins)
Translucent fins
+$50-150 USD on top of fin size price 
    *price depends on compexity, please contact before ordering 
Matching Apparel
Custom mermaid top - $60 USD
Custom mermaid leggings/capris - $70 USD
Custom mermaid bracers - $40 USD
Custom mermaid mask - $15 USD
Matching webbed gloves - $60 USD
          +$15 USD for fin upgrade for bracers and webbed gloves
FAQ
Predesigned vs Custom Mermaid Tails
Our Predesigned Mermaid Tails are practically the same as our Custom Mermaid Tails except that the design is premade. They are still custom sized and made with the same fabric and sewing techniques as our Custom Mermaid Tails.  
Production times
For mermaid tails, we run on a waitlist system. We can accept applications at any time but will notify you once ready to begin production. From there, they can take anywhere from 3-5 weeks before we can ship it out. 
How to order a mermaid tail
Once you submit your application, we will send you a invoice for $50USD and give you an approximation of the timeline. Once we're ready to begin production of your tail, you will be sent an invoice for the rest of the payment and we will ask for your measurements and detailed concept. While waiting on the measurements we will start working on a concept design piece of your tail. Once that has been finalized, we start working on the final design piece. After you have approved it, we send it off to the printers and then we start on any custom apparel. Once the fabric has returned to us, we start sewing your tail. Then we place everything into a box and send it off to you. 
Warranty and repairs
All of our tails have lifetime warranty for repairs that we can make. That includes: burst seams and small holes NOT fading or pilling of the fabric. If you notice that there's a small hole or your seams are starting to burst, send your tail in immediately to get it repaired. Sirens Cove Designs is NOT responsible for paying any needed shipping to get your tail back to our workshop. We cannot guarantee that we will be able to repair your tail but the smaller the damage, the more likely we can repair it. 
Reprints
If you already own a custom tail of ours and are wishing to have a reprint of that exact tail, feel free to contact us. The price would depend on it's complexity. 
Printed Fins
Printed fins are printed on to the body of the tail and aren't the same as extra fins. Extra fins are separate pieces of fabric sewn onto the fabric. Printed fins still look beautiful and are a more budget friendly option.
What fabric do you use?
Our tails are made of a thicker spandex, similar to neoprene and are made using sublimation printing. 
Kids tails
We don't offer tails for kids but we do sell mermaid leggings in smaller sizes. With that, we recommend that you buy a kids Mermaid Linden by BodyGlove monofin, a kids mahina merfin or a small finis luna, and swim with our leggings. It would work with other monofins too, but these monofins are excellent for kids. 
Mermaid tail designs
Each and every one of our mermaid tails are designed specifically for each client. We can take inspiration from other tail makers' work or from our own tails but we won't directly copy someone else's design. 
Returns/ exchanges
We do not offer any returns of exchanges in any of our products as they are all made to order. Once you fill out the application form, there's no going back so make sure that you're ready when you order. 
Sequined mermaid tails
We do not offer sequined mermaid tails because of various environmental reasons.
Payment
Once you fill out the form, we take a small payment of $50USD. Once we start production of your tail, we take the remaining payment.
If you have any other questions, feel free to contact us. 

Monofin
Our tails DO NOT include the monofin