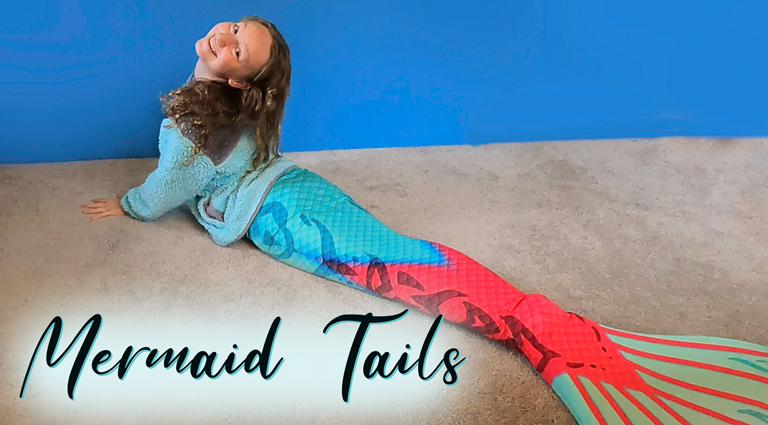 It's our passion to spread mermaid joy around the world with our mermaid tails. Choose between one of our pre designed options or custom design to create the tail of your dreams. All of our tails feature an elastic-free waistband, thick and luxurious fabric, vibrant colours, exceptional detail, custom sizing and an open bottomed fluke that is sure to make anyone from a hobbyist to a professional mermaid happy. 
We offer two different kinds of mermaid tails and click on each one to learn more about them.
FAQ
Predesigned vs Custom Mermaid Tails
Our Predesigned Mermaid Tails are practically the same as our Custom Mermaid Tails except that the design is premade. They are still custom sized and made with the same fabric and sewing techniques as our Custom Mermaid Tails.  
Production times
For mermaid tails, we run on a waitlist system. We can accept orders at any time but will notify you once ready to begin production. From there, they can take anywhere from 3-5 weeks before we can ship it out. 
How to order a mermaid tail
Fill out the order form corresponding to the type of tail that you're ordering. After, you will receive an invoice for $50USD due immediately. You will be billed for the rest of your tail and notified once we're ready to start production of your tail. On the FAQ section for each type of tail, it will describe the process in more detail. 
Warranty and repairs
 All of our tails have lifetime warranty for repairs that we can make. That includes: burst seams and small holes NOT fading or pilling of the fabric. If you notice that there's a small hole or your seams are starting to burst, send your tail in immediately to get it repaired. Sirens Cove Designs is NOT responsible for paying any needed shipping to get your tail back to our workshop. We cannot guarantee that we will be able to repair your tail but the smaller the damage, the more likely we can repair it. 
Reprints
If you already own a custom tail of ours and are wishing to have a reprint of that exact tail, feel free to contact us. The price would depend on its complexity. 
Printed Fins
Printed fins are printed on to the body of the tail and aren't the same as extra fins. Extra fins are separate pieces of fabric sewn onto the fabric. Printed fins still look beautiful and are a more budget friendly option.
What fabric do you use?
Our tails are made of a spandex, similar to neoprene and are made using sublimation printing. 
Kids tails
We don't offer tails for kids but we do sell mermaid leggings in smaller sizes. With that, we recommend that you buy a kids Mermaid Linden by BodyGlove monofin, a kids mahina merfin or a small finis luna, and swim with our leggings. It would work with other monofins too, but these monofins are excellent for kids. 
Mermaid tail designs
Each and every one of our custom mermaid tails are designed specifically for each client. We can take inspiration from other tail makers' work or from our own tails but we won't directly copy someone else's design. 
Returns/ exchanges
We do not offer any returns of exchanges in any of our products as they are all made to order. Once you fill out the application form, there's no going back so make sure that you're ready when you order. 
Sequined mermaid tails
We do not offer sequined mermaid tails because of various environmental reasons.
Payment
Once you fill out the form, we take a small payment of $50 USD. Once we start production of your tail, we take the remaining payment.
If you have any other questions, feel free to contact us. 
Terms and conditions
Siren Cove Designs reserves the right to:
- make changes to the design for production purposes
- share behind the scenes imagery to our social media 
- cancel an order if the client is not responding, harassing us or refusing to pay
- increase the price if the original price is inaccurate 
Sirens Cove Designs is not responsible for:
- Any damage occurring to your product
- Any injuries caused by the product
- Lost packages in the mail
- Incorrect measurements
- changes in colour between the digital file and the print 
- for any shipping or import fees
As a client of Sirens Cove Designs you must:
- respect our time zone, PST
- agree to the terms and conditions
- not share any images and videos sent to you without permission 
- pay your invoices on time
- not ask for a refund, cancelations are possible but not refunds
- provide feedback when asked and ask questions if needed
*The terms and conditions are subject to change without notice